AdultCentro Market releases new functionality on it's Platform 0.2
Content Upload
With a new STORAGE tool in the seller's admin panel, content uploads are fast and secure. Each seller is given a separate ftp account for upload and after a quick and thorough review by our content team, all products will become available within the CONTENT CATALOG for the assigning of licenses and enabling on Market. The AdultCentro content department is always ready to help with content processing and are happy to advise on how to create a a highly-profitable product out of any DVD or photo-set. Minimum requirements for content submission are:
An excel spreadsheet with a list of the titles being submitted along with production company name;
2257 documents for each title;
scanned box covers for DVDs;
A metadata file with model names, keywords, description, studios, and release date.
Remember – the more information provided, the faster your content will appear on Market. To upload content on Market, please register as a SELLER, login to the admin panel, proceed to Catalog, Content Storage, and click on Create Storage button.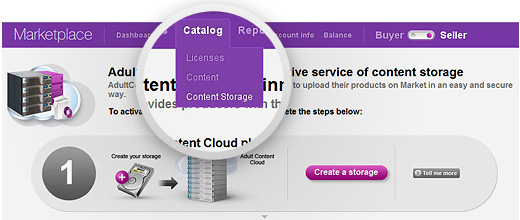 New products
Giving both buyers and sellers variety of options, we now accept and support individual scenes and photo-sets. Each scene of the DVD (if edited and cut into scenes) can be sold separately along with the full-length movie with it's own license and price. Photo-sets contain previews of each image and can be purchased separately and with it's related video. Examples can be seen on the main page in DEMO PRODUCTS block. To upload different types of products for sale, please register as a producer, proceed to Catalog – Content Storage – click on Create a Storage and choose what type of product you want to upload first.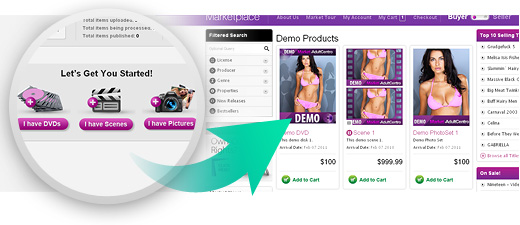 Payment methods

AdultCentro Market now supports payments via PayPal, Sofort and Authorize.net and more payment methods are coming soon.
Digital content delivery
Downloading all content purchased via Market through direct secure links ensures that your product is being delivered to only those who are authorized to have it. Links are available for the customer right after purchase and can permanently be found on their ORDER page. When it comes to video content, separate links are given for each scene and each format available, including source files.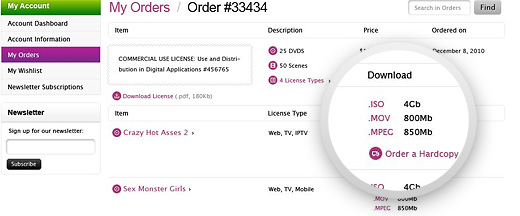 Physical Product Delivery
For sellers delivering orders through UPS, Market provides a new special function allowing you to log into UPS within Market account, assign tracking codes directly to orders and track order status from the seller admin panel. To start delivering via UPS, proceed to your Account Settings, enter your UPS log-in and password in UPS block. Then for every Order purchased enter its tracking code and see all status changes right within your admin panel. Customers on the other side are also provided with the detailed shipping status details right on the Order page.

"Sale" mode for all types of products
As a seller, we make it easy to run effective promotions and increase sales by offering specials to thousands of potential buyers within the ACM network. Your special promo can be scheduled beforehand, applied on single product or to the all products assigned to a specific license. Buyers, don't miss out these exclusive sales found only on AdultCentro Market! To apply "sale mode" on Product, enter product profile, choose one of it's licenses and click on "Sale" icon. To apply "Sale" mode on a license (and all products assigned to it) enter Catalog – Licenses and click on "Sale" icon in Actions.